Franklin's new skatepark, located at 102 Van Raalte Street, is one of the town's most recent additions. Three years in the making, this project has been widely contributed to and is finally up and running.
According to Mayor Jack Horton, "This skatepark is an excellent example of what can be accomplished when the private sector, citizens, public safety officials, the Macon County Board of Commissioners, and the Town of Franklin Council join together in providing another resource that our young folks can use and enjoy." Many Macon County individuals are in agreement that the skatepark was highly needed as a recreational space for Franklin.
Council member David Culpepper stated, "I believe the biggest benefit is it legitimizes the skaters as individuals and athletes. I think that alone increases their self-esteem, which will allow them to be more productive in the fabric of the community. The community needed a skatepark for the last 30 years or so. The biggest benefit is to the youth; it gives them a place to skate safely and legally and not have to worry about being ostracized for doing something they love."
The skatepark project has officially been underway since June of 2021, when J.E. Dunn Construction Group went to the Town of Franklin Council and offered to assist in the construction of the skatepark, as the firm was already helping with the construction of the new Angel Hospital. In September of 2021, the site at the Whitmire Property was chosen. Fast forward to April of 2022 and the design of the skatepark by Pillar Designs was chosen. After a year of fundraising for this project, a groundbreaking for the skatepark took place on April 14 of this year. On June 5, construction began and was completed on August 9. The skatepark had a soft opening on August 22.
All About Chimneys' Dan Lawton was an instrumental figure in the development of the skatepark, and after an interview with him it was learned that he is excited that the dream of a skatepark in Franklin has become a reality. He explained that a "grand opening" will take place that may feature live music, a skating competition, and more, but the date for the event has not yet been determined as the skatepark is not 100% completed.
The skatepark is a total of 6,000 square feet. Amie Owens, Franklin town manager, provided information concerning the capacity of the skatepark: there is not a specific capacity because it is meant for "simultaneous users," which refers to the skaters waiting their turn and sharing the park so they can skate without risking a collision. "Our skate community has been very generous in sharing the surface and no conflicts have been noted," she said.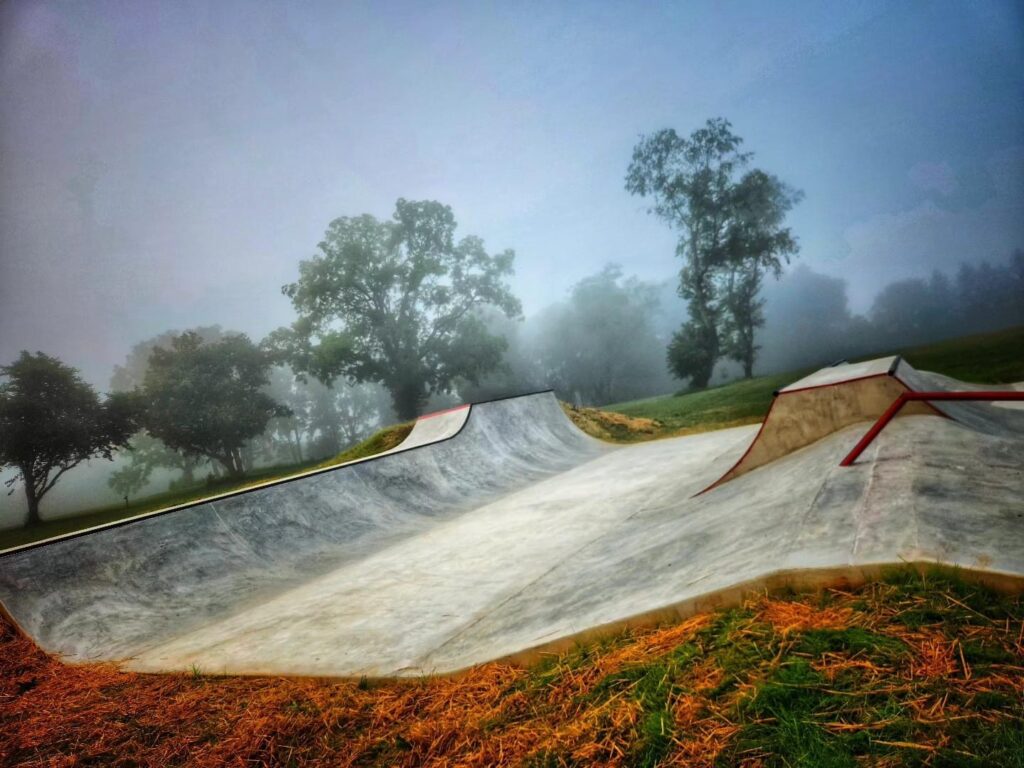 Lawton shared that there can be anywhere from five to 40 people in the park at a time and that people from Sylva, Clayton, and other surrounding areas have visited the park. "I've seen kids as young as three and guys in their 60s at the park," remarked Lawton.
"The skatepark was built on the Whitmire Property, which is a total of 13 acres and the skatepark is actually on a really small portion of that," said Owens. "The town didn't know what we were going to do with the property, but once we put the skatepark there, we decided that we were going to turn the whole thing into a park. We just did a study to figure out what should go there and after a presentation to the board, the whole thing will become recreation, eventually."
"It will be done in stages because it is a fairly large and expensive project," said Culpepper.
Many contributions have been made in support of this project. According to Lawton, a major way to donate was through "donation bricks"; contributors had the opportunity to give money and their name was placed on a brick, which will be built into a wall. Although donation bricks are no longer obtainable, this was an excellent way of gaining community support, he explained.
"We're going to continue to have benefit concerts at Altered Frequencies to raise money," said Lawton.
Overall, a net total of $287,525 was raised for the skatepark. The Town of Franklin contributed $15,000 for design, $32,000 for grading and finishing work, and $100,000 for construction. Macon County contributed $95,576, J.E. Dunn contributed $25,000, and the R.L. Jordan Company contributed $10,000. Sk828, which is a Facebook community that has been invested in the project, raised $41,949.
Franklin's strong sense of community vividly shows in the skatepark project.
"It was really a community effort; it was totally grassroots," said Culpepper. "The skateboarding community came to us because they saw that there was a blaring need for this and everyone really coalesced around it."
Evan Lampkin, a junior at Franklin High School, is a skater and has been following this project closely from the beginning. He said, "I feel that it is a plan that has been in motion for a while now and to finally see it finished is an accomplishment."
"I think it's one of the best things new in Franklin in a long time. I like that the skatepark carries a lot of speed. For the size of the park, I didn't see that coming. I am most impressed," said skater Scott Elliott (a.k.a. ScotteLo).
Mayor Horton remarked, "The desire and need for the skatepark was well documented and everyone came together to make this project a reality. I am delighted things worked out so well and I am confident that this is just the beginning of things to come. 'Public Service in the Public Interest,' is a theme that resonates throughout our community. Thank you to all who helped."
Looking forward, the skatepark still needs more to be completed and more to be added. Lawton offered a list: "More pavement needs to be added to go out toward the parking lot, lights need to be added so skaters can use the park in the summer months when the weather is too hot to skate during the day, 'real' restrooms need to be installed, and a pump track needs to be built for skaters."
In addition, benches and a graffiti wall along the skatepark's edge will be built as a barrier for homes near the park by way of a donation from R.L. Jordan company.
(About the Author: Anna Waskey is a junior at Franklin High School and an honor student.)