Thousands converged on Franklin's Main Street as well as parallel and cross streets to enjoy a host of charming and traditional activities, crafts, foods, entertainment, and much more Oct. 21 during the annual PumpkinFest. Most popular each year and again this year was the Pumpkin Roll, which had hundreds of people lined up an hour before the activity began.
"It's the most popular event," commented Danielle Crabtree, whose family businesses, Motor Company Grill and Crabtree General Store, sponsor the event. "We prepared with 500 pumpkins but always know that we may need more."
One Town of Franklin department making sure that all ran smoothly was the police force, under the direction of Police Chief Devin Holland; first responders from other departments assisted as well.
"We have never had a threatening situation during the Fest, and hope that we never do," said Chief Holland. "In the event there ever was, we have officers available to respond and act accordingly. We always have plenty of eyes and ears out during the event to alert us of any potential issues. Most of the emergency incidents are medical calls. Franklin Fire-Rescue is on location to provide a medical station, and to respond to any issues."
Chief Holland stressed that pedestrian safety "is our main concern due to the re-routing of traffic."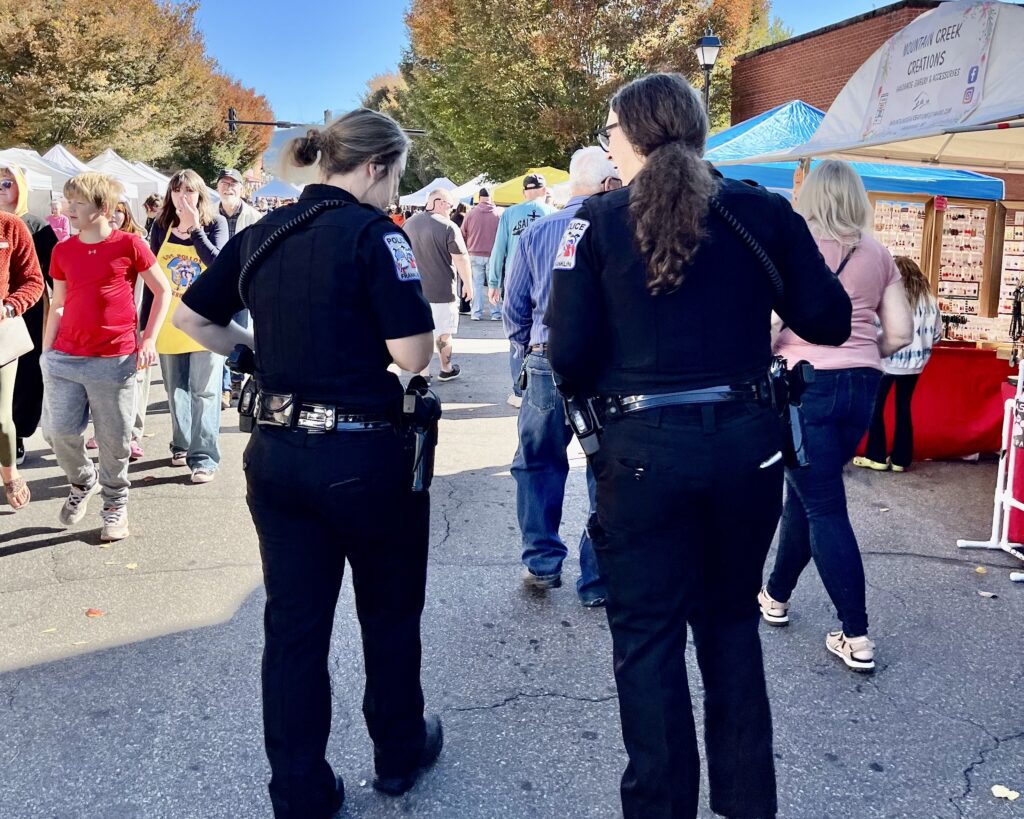 East Palmer Street was closed during the Pumpkin Roll so there was no pedestrian crossing traffic.
"The area of the Pumpkin Roll gets very congested with pedestrians and vehicles, and requires an officer to be there the entire time," he said, adding, "street closures are the most challenging aspect of PumpkinFest. The event literally takes up the entire downtown, which requires us to block Main Street and all of the side streets feeding Main Street."
Added Franklin Fire Chief Ben Ormond, "The crowd control is maintained by us and the police department working cohesively, and if we need help, we call them and vice versa. We strategically stage fire apparatus on the edge of where the streets are closed … and in close proximity to our tent in the center so that when there is that medical call, we can get out quickly."
Despite necessary extra safety measures, due to thousands of people enjoying the large, annual Town of Franklin-hosted event, Chief Holland shared that he and other first responders are rewarded by "watching all the residents and visitors enjoy the Fest … especially after the Town of Franklin employees and our officers put so much work into the event."
The clear, crisp, vibrantly hued fall day went off without a hitch, with Franklin's streets crowded with costumed children, dog breeds from very large (a pair of Irish wolfhounds) to very small (Cavalier King Charles spaniel), and enthusiastic volunteers, such as Uptown Gallery artist Ruth Goodier, who has been face painting at PumpkinFest for the last 18 years – with money raised going to the Macon County Schools' art teachers.